BITUMINA has an unparalleled capability in providing the most beneficial solutions for delivering Bitumen to your doorstep. In BITUMINA we know that the shipment of Bitumen requires precise coordination and individual follow-up on a regular basis. To exceed the expectations of our clients we constrain ourselves to working only alongside competent, renowned and efficient logistics companies and shipping lines, leveraging them with adding value through our in house logistics team, which combined delivery improved services to the level expected by clients. With our teams years of experience in bitumen trading, production and operations, we are professional in every aspect from selecting specifications to delivering the exact product to whichever destination. As a result we guarantee the quality, safety and competitiveness of our products, equipment and services.
Our products rigorously conform to the specifications of ASTM, AASHTO, EN and other international and specially developed specifications and standards. We employ a high caliber Quality control department to ensure our products meet the specifications we undertake to deliver. Aside our in-house Quality Control Management System, we also deploy external Quality Assurance Services from internationally renowned third party inspection companies such as SGS, Geochem, Bureau Veritas, Saybolt, Intertech and many others, to ensure and assure the specifications of the products delivered under our scope of delivery. BITUMINA, MONITORING BITUMEN QUALITY FROM REFINERY TO PAVEMENT
New Steel Drums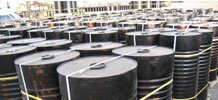 BITUMINA's selected drumming facilities are majorly located in the Middle East and manufacture high quality new steel drums using high quality Standardized Steel produced by companies such as ArcelorMittal, TATA Steel and MMK all in conformity to EN DIN standards. In these drumming facilities under the supervision of BITUMINA's QC Management System and Supervision, Bitumen is packed in corrugated cold rolled steel drums.
Our Bitumen is transported in drums of various dimensions and weight. Having a broad experience in transporting bitumen in drums we can advise clients on the most appropriate and suitable form of delivery customs suited for the complexity of your final destination, considering economies of transport and required quality standards to ensure the products reach their target destinations flawlessly without leakage or spillage. We ensure appropriate and realistic consultations to our clients to ensure timely shipment and delivery of products and services to their site, to ensure that projects are not delayed to avoid idle times and project delay penalties. The Staff at BITUMINA is trained to care about efficiency, transparency and attention to detail, ensuring that each client shipment is treated with utmost priority, no matter to size.
You may contact us at all times for consultation on different drum sizes and dimensions, custom fit for your market, destination and project requirements and we ensure to have the flexibility to deliver exactly what you require.
At the current we supply using drums of:
40 Kg Drums

150 Kg Drums
155 Kg Drums
170 Kg Drums
180 Kg Drums
200 Kg Drums
240 Kg Drum
Go to top
Polycubes
The Polyethylene Bag is a revolutionary system assisting in the bitumen transport. It provides a cost efficient alternative to Bitumen drums. The Polyethylene bags are capable of holding up to 350 kg of bitumen. Advantages over the steel drums:
In general the waste which remains in drums accounts for 3-4%, with Polyethylene Bag bags there is no residual waste;
The packaging does not pollute the environment, as drums are hard to recycle and re-sell, especially for projects where the Bitumen is melted distantly from the port at deep inland locations.
The system is easy for shipping and storing;
Bitumen is delivered and melted at a convenient location;
The cost of labour is reduced;
Due to more efficient heating (only the bitumen is heated and not the drum), carbon emissions are reduced;
Due to using and melting bitumen only when needed, the constant energy consumption to keep bitumen heated is avoided, which results again in lower carbon emissions;
Due to cold shipment of the cargo across the world, saving of more carbon emissions in comparison to bulk shipments, which requires constant heating during ocean voyages
BITUMINA provides complete solutions around the Polyethylene Bags System, from supply to melting and storage tanks. Please contact us for further information and free consultation.
*Polycube™ is a Trademark of Polycube Systems, Austria.
Go to top
Bitumen Big Bags Of 1 TON
Our Group supplies Bitumen in 1 ton Bitumenbags™ developed by the POERNER™ GROUP of Austria.
The Bitumenbag is filled with bitumen that is exactly cooled down to a temperature slightly higher than the softening point - and lower than the melting point of the plastic liner material of the bag into a special Polyolefin Bag and is let down to harden and become solid for easy handling and cold transportation. The inner bag is placed in a very solid and firmly designed 3ply outer layer of special polymeric bags.
These bags are environmental friendly and safe to handle, as it allows transportation and storage of large quantities of bitumen for long periods of time reducing energy costs and avoiding any left overs in drums or un-necessary heating like in bulk vessels.
The outer layer is cut open and the inner liner melts with the bitumen during the melting process using our specially designed high tech melting units which have a capacity of 4 tons per hour.
The reduction in carbon emissions due to long haulage of heated bitumen is avoided in all types of cold packing, however with the bag, additional benefit is that there are no environmental left overs and bitumen is only melted when and where needed.
The bags also save about 8% of energy consumption in comparison to drums melting or Bitutainers.
*Bitumenbag™ and Poerner™ are Trademarks of Pörner Ingenieurgesellschaft mbH
Go to top
Bitutainers
Bitutainers are essentially containers designed for shipment of cold bitumen in larger quantities and in containerized form, with the ability to heat the containers prior to use at the final destination through the application of various burner and heating systems, ranging from Thermal Oil to Electrical solutions. All containers meet all International Maritime rules, regulations and classifications and are certified by Lloyds or other internationally accepted certifying bodies for containers used in International Maritime Containerized Shipments. All Bitumen Containers supplied by BITUMINA are highly isolated and ensure the quality of the Bitumen transported and or stored in them is maintained throughout the operations they are intended for. BITUMINA is capable of providing Bitutainers in different sizes and models for different applications and purposes, dependent on customer requisition, some of which include:
Bitutainers suitable for International Maritime Transport of Cold Bitumen in various sizes and storage capacities (20' & 40' containerized versions, being the most popular)
Bitutainers suitable for mobile storage applications at destination ports or at construction sites
Bitutainers suitable for replacing road emulsion sprayers
Bitutainers serving as Terminal Tankage and discharge tankage for bulk vessel unloading
Bitutainers serving as local mobile delivery systems combined with mobile storage
And many other applications
BITUMINA has the capacity and capability to design and produce custom purpose fit containers for specialty and specific customer requirements. BITUMINA further may provide assistance in allocating Container Management Teams and Companies to its clients, to ensure clients don't lose track of their assets and their assets are well maintained, tracked, utilized and that all risks associated to the loss or damages of containers are well managed. BITUMINA is further capable of assisting clients in setting up fleet and fleet management services for complex operations and transportation of Bitutainers for client long term projects.
We are ready to listen and understand your requisitions and provide you with custom solutions and best practices for your small and big projects.
BITUMINA may further assist in delivering for some destinations, Bitumen: Via Railway to some European destinations
In hot truck
Road tankers with capacities of between 10 and 40 tonnes take most of the bitumen from the refineries. They have insulated single-compartment tanks, usually with some kind of heating such as heating tubes. To transport bitumen to intermediary depots with reheating facilities, insulated rail cars are used. Their capacity ranges from 10 tonnes to 50 tonnes and they are also fitted with electric heaters or direct oil-fired flame tube heaters.
Go to top
Bulk Carriers
BITUMINA always provides customers with the most efficient and economical freight & logistics solutions.. Through its extensive network, BITUMINA may assist you in bulk shipments of Bitumen to markets were bulk shipment is available and viable. BITUMINA can assist in CIF deliveries of hot bitumen to your terminal, FOB supplies of bulk Bitumen, assistance in voyage and time chartering of bulk vessels as well as procurement of Bitumen Bulk Vessels. We are able to ensure the Vessels, Vessel Operations as well as Vessel Management solution provided meet our clients as well as their operation ports regulations and requisitions.
The quality of the hot Bitumen is monitored throughout the voyage by implementation of a distinctive quality management system by BITUMINA's Quality Control & Quality Assurance Team.
Through BITUMINA's connections with a variety of bulk vessel and tankage owners & operators, we may offering limited opportunities of supply of bitumen in bulk globally, where maritime security and competiveness of bulk services allows us to operate.
Do not hesitate to contact us for bulk operations and consultation.
BITUMINA Hi-Tech Pavement Binders 2013. All rights reserved
Go to top